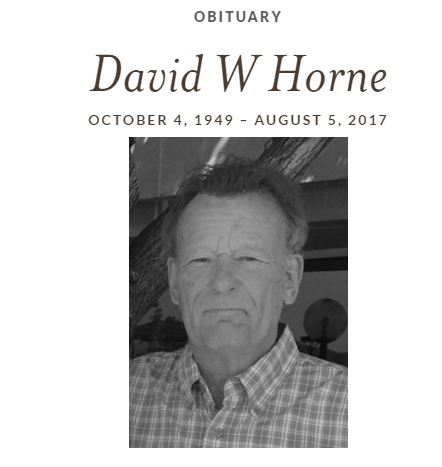 David Wallace Horne was born October 4, 1949 in Salt Lake City Utah to Phyllis Jean and John Nelson Horne. He passed away suddenly on August 4, 2017 at the age of 67 at Saint Marks Hospital of heart failure.
David grew up in the Sugarhouse area and attended Highland High School and graduated in 1968. He later attended the University of Utah and Steven Henagers Business College.
David Married Sandra Ingman at Lake Tahoe Nevada on Feb. 14, 1970 in a beautiful winter setting they were blessed with three wonderful children. He is survived by his children, Lisa Jean Bateman (Brandon) Lesli Ann Greenhalgh (Douglas) and son David Justin Horne, and 11 grandchildren, step grandchildren, and one great grandchild.
David was a quiet gentle person as a child he was an Eagle Scout and a member of the LDS church in his youth. David overcame a life threatening kidney disease in his youth which he endured along with his brother Chris who was one year younger than David they went through the crisis together with courage. David is survived by his older brother John Douglas Horne, younger brothers Robert Kevin Horne, Thomas Michael Horne. David is preceded in death by his little sister Heather Horne and Mother Phyllis Jean Horne.
David's young adult life was adventurous, David moved his young family to Wyoming and began to build A-Frame mountain homes he was a hard worker and enjoyed his young children and found himself building a home for his own little family. Wyoming winters were hard and the family remained in Wyoming for four years until the oil fields dried up and housing market dropped.
David then moved back to Utah where he and his wife managed a number of large apartment complexes for several years and then began his own successful Garage business.
Several years later he married Romona Lee Timm with her 3 children, she was a good friend and Step-mom to David's Children.
David recently retired from his business and began to spend quality time with his Grand- children and his wonderful great Granddaughter Molly the apple of his eye. He began to enjoy more time with his family on trips to Lake Powell and family gatherings. He loved attending kids games and just being a grandpa...it was his greatest joy.
David will be surely missed by all who knew him and loved him.
The family would like to personally thank Braydon Odette, the ambulance response and St Marks Hospital staff. Special Thanks to his many friends at Fellowship Hall. We the family are truly greatly for your support and love towards him.
Funeral services for David will be held on Wednesday, August 9, 2017 at 11:00 am at the LDS Chapel, 739 Ashton Avenue in Salt Lake City. Friends may call upon the family one hour prior to the services. Internment to follow at Wasatch Lawn Memorial Park, 3401 South Highland Drive, Salt Lake City.