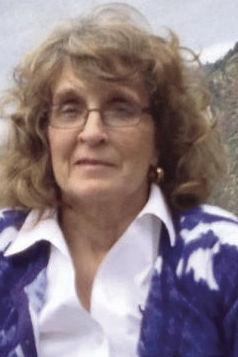 CINDY CHILD LARSEN
April 30, 1950—Oct. 8, 2019
Cindy, a remarkable wife, mother and friend, with class and beauty for the ages, passed away peacefully on Tuesday, October 8, after a long battle with complications from Multiple Sclerosis. Her husband, Brad, and her family celebrate Cindy's amazing life and the lessons she taught them in her 69 years.
Grit: Facing many unknowns after being diagnosed with MS over 45 years ago and only four months after having her first child, Cindy then went on to have three more kids and far outlived her goal of seeing her four sons graduate from high school. Instead, she was able to attend her sons' marriages and give loving kisses to 12 grandchildren.
Humility: Cindy's sense of humor and willingness to laugh at herself provided levity to the lives of those around her. It seemed like a daily occurrence for her to laugh so hard she would cry.
Optimism: She was never, in her words, less than "fine," even during her worst health challenges.
Indomitable Spirit: She was never willing to accept her limitations. With an adventurous spirit and a courageous caregiver (who would prefer to carry his wife over her not going at all), she globetrotted to places such as Machu Picchu, Venice and the Galápagos Islands.
Joy: She loved music and theater, finding joy in blasting a Barbara Streisand playlist or attending a new play at Portland Center Stage.
Gratitude: She looked at each day as a gift and frequently expressed appreciation for the daily care of her doting husband, Brad, and her dear friend, Jane McCormick.
Cindy was born in Minneapolis but lived her formative years in Salt Lake City and graduated from Brigham Young University. She and her husband Brad eventually made Southwest Washington their home. She is preceded in death by her parents, Stanley and Doressa Child, and a sister, Susan Hansen (Randall). She is survived by her husband, Brad; siblings Brent Child (LaRae), Becky Nielsen (David), and Rick Child (Sandy); her four children, Jordan (Holly), Jamie (Morgan), Justin (Jessica) and Josh (Kim); and 12 grandchildren.
In lieu of flowers, the family encourages donations to the National Multiple Sclerosis Society or a charity of your choice in memory of Cindy.
Services will be held on Saturday, October 26, at 11 a.m. at the Church of Jesus Christ of Latter-day Saints at 1721 30th Ave. Longview, WA, 98632.