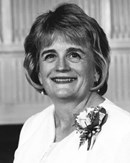 Kristie Burt Baker
1949 ~ 2020
Kristie is known for her chocolate chip cookies, enchiladas, and Christmas caramels. The delicious treats and meals that poured out of her home over the years were a representation of the genuine love that she felt for everyone. No one was a stranger for long. Kristie's circle of friends knew no bounds and her ability to love anyone is really her recipe for an incredible life.
Kristie learned to love unconditionally firsthand from her amazing parents who did everything to bring her into this world. Her childhood was filled with memories of visiting cousins in Idaho and warm summer days in Aunt Alta's pool. She never felt like an only child because she and her cousins were as close as siblings could be.
At Highland High School, she met the love of her life Roger Baker. Rog and Kris' love is timeless and is one of the greatest love stories ever. As they married, spent time in the Air Force, and eventually settled on Tenth East, they welcomed three children: Jennifer, Michael, and Jonathan. Their door was always open, and the walls of their home were extended through the neighborhood to include the PTA, Joy School, Jog Jazz, Superman capes, and 41 annual ice cream parties. Her dedicated church service in the LeGrand Ward was a hallmark of her life.
Her career as a Registered Nurse at LDS hospital began after her children were raised and became her passion. The care and skills she learned were magnified when she became a Kidney/Liver Transplant Coordinator with IHC. Countless families were blessed as she coordinated transplants, cheering and crying with each of them.
Kristie's 12 grandchildren were her greatest treasure. She was their loudest cheerleader and support from the moment they were born. She saw their potential and did all she could to encourage them to become their very best. They brought her true joy.
Kristie's life of service was repaid in full during her final years. As she fought her battle with Alzheimer's, friends showed up for hikes, front porch visits, meals and so much more. This network of friends and support was full of love and care. It is the greatest tribute she could have been paid. Her family wishes to thank all who helped in any way, we are truly grateful.
Her children want to thank our father Roger for the devoted care that Kristie received. He did everything possible to make every day the best it could be. No one could have done more for her than he did, thank you dad!
She taught that hard things may come our way, but they don't define you. You can choose happiness. You can look for the sunshine in every moment and you'll find it. To honor Kristie, please enjoy a long walk in the sunshine, serve someone in need, and stop to pet a dog. Nothing would make her happier. We love you mom!
Kristie is survived by her husband Roger Baker, three children, Jennifer Lightfoot (Ryan), Michael Baker (Kellie), Jonathan Baker (Melissa). Her 12 grandchildren, Jackson (Lacey), Cody (Holly), Haley, Brea, Lexi, Isabel, Jacob, Cameron, Samantha, Tyler, Addie, Tommy and one great granddaughter, Logan Lightfoot.
She is preceded in death by her parents Allen (Bill) and Bernice Burt.
Services will be held at 12:00 p.m. on Monday March 16th, 2020 at Larkin Mortuary 260 East South Temple, SLC, Utah. A viewing will be held Sunday, March 15th from 6:00 to 8:00 p.m. and Monday morning from 11:00 -11:45 prior to the service. Interment will be held at Salt Lake City Cemetery 200 North N Street, Salt Lake City, UT.